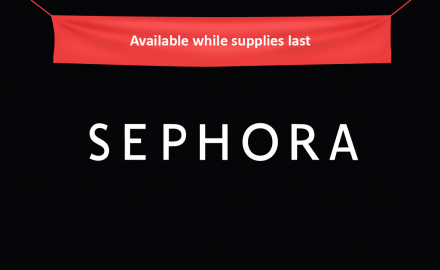 Redeem your points for a $20 Sephora gift card
Bold. Boundless. Addictive. SEPHORA is a revolutionary beauty retailer with over 14,000 products across makeup, skincare, perfume and more.
Details
You will receive an email from LEO with the information you need to use your Sephora gift card.
In-Store redemption
This virtual gift card can only be used in store
To redeem in store, either print your eGift Card or present your mobile device to a cashier. To print, please view your eGift Card from a computer that is connected to a printer.
Terms and conditions
Card has no value until activated. Redeemable only for merchandise sold at Sephora store locations in Canada and the U.S., on Sephora.ca and on Sephora.com. Not redeemable for cash except as required by law. Card value will not be replaced if card is lost, stolen, altered, destroyed or used without authorization. Card does not expire. Merchandise purchased with card is subject to Sephora return policy. Card is issued by Sephora Beauty Canada, Inc., which is the sole legal obligor to the cardholder. For store locations, orders, or card balance inquiries, please visit www.sephora.ca or call 1-888-860-7897. © 2020 Sephora Beauty Canada, Inc. All rights reserved. To protect yourself against gift card scams and fraud, please visit: www.sephora.ca/giftcardscams.
---
REWARD DELAY
Allow up to 7 business days between placing your claim and receiving your Sephora gift card.
---
The value of the reward is taxable, even if you do not receive tax slips.
For more information about the LEO rewards, consult our Frequently Asked Questions (FAQ).